Campervan Hire Broome
Search for Campervan Rental in Broome
Explore the white sandy coastline of Broome with Campervan Hire from DriveNow
The beautiful beach resort town of Broome in Western Australia is a popular holiday destination due to its tropical vibe, vibrant culture, and spectacular white sandy coastline. Cruise the untouched Kimberley coast, explore the magnificent red sands, and uncover the world's largest dinosaur print whilst visiting Broome. With so much to explore, you'll be left spoilt for choice when it comes to discovering Broome on your campervan hire trip.
Book Value Campervan Deals in Broome with DriveNow
DriveNow has been comparing rental pricing since 2003 to help travellers get the best deals when it comes to renting campervans, motorhome and 4 wheel drive vehicles. We have partnerships with Australia's top campervan rental brands with branches in Broome including: Apollo, Cheapa Campa, Britz, Maui and Maui Elite.
Our DriveNow free online booking service makes finding the perfect campervan rental in Broome easier than ever and saves you valuable time before your trip.
Australia's largest choice of rental partners - brands you know and trust
Impartial and Objective - instant rate comparison
Who likes fees? 100% Free booking service
Speak to a local. Our Reservations team are there to help and based in Australia
Quick and easy
Over a decade of experience in the market
Driving and Parking Tips in and around Broome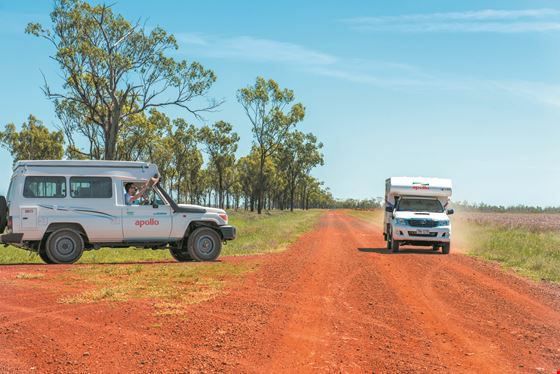 You'll feel at ease driving a modern camper in no time!
Whether you're embarking on your first ever campervan trip or you're a seasoned road tripper, it can always be a bit nerve-wracking when getting behind the wheel. Don't worry though our fleet of suppliers has a great selection of modern campervans that are a lot easier to drive than you would expect. It won't take you long to feel at ease with the size, and power steering will make driving an enjoyable experience.
Broome One-Way Rentals
If you're planning on exploring the vast beauty of Western Australia on your trip to Broome, have you thought about hiring a relocation camper? For as little as $5 a day, often with fuel included, you can pick up a camper in Broome and drop it off in Perth. Or, head to the Northern Territory instead and drop off your relocation camper in Darwin, the choice is yours. They key is being able to be flexible with your travel plans, it's a cheap way to explore Australia and comes about when our rental partners need to relocate campers around the country due to demand or changing seasons. Check out relocation deals from Broome and embark on an adventure of a lifetime.
Where to Park around Broome?

The picturesque view from Kooljaman at Cape Leveque!
Source: Flickr
Road tripping around Broome in a campervan is the perfect way to explore the abundance of natural beauty spots in this tropical paradise. Pulling up wherever you feel and spending the night is not welcomed in Broome, but not to worry there are plenty of idyllic campsites to spend the night. Just make sure you book in advance as they fill up fast. Check them out below.
Packing Tips for Your Campervan Holiday in Broome
Packing for a campervan holiday can seem like a stressful task. You'll have a list as long as your arm but won't want to live in a cluttered van for the duration of your trip. With DriveNow campervans, you'll have all the items you need already provided, from bedding to cooking equipment, as well as the option to add on any additional extras. So, all you need to worry about is packing your personal belongings. One little tip from us to you is to avoid hard case suitcases as they take up valuable space.
Weather in Broome

Broome offers a tropical climate all year round
Broome is blessed with a warm climate all year round due to its tropical climate. It has two seasons, in which the wet season runs from November until April, and the dry lasting from May until October. The most popular time to visit is from mid-June to August as all the attractions are open. Thanks to its warm sunny days, Broome is the perfect escape from the cold winter months elsewhere.
Driving Highlights Not to Be Missed in and Around Broome
If you're flying into Broome airport, your campervan rental will be awaiting your arrival to embark on your adventure. Once you've picked up the keys, it's time to hit the road and check out these top attractions on your Broome campervan road trip.
Cable Beach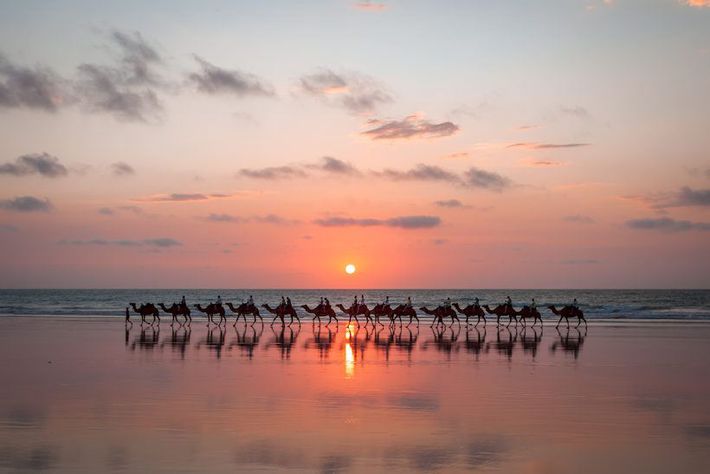 Watching the camels on Cable Beach at sunset is a must-see whilst in Broome

Cable Beach brings visitors from all over the world thanks to its 22km stretch of pristine white sands and turquoise waters. Take the coastal drive along Cable Beach Road and find your perfect place to stop and enjoy a day of exploring. There's plenty to do from paddle boarding to bike riding, or you could enjoy its iconic camel rides for a different perspective of this magnificent spot.
Willie Creek Pearl Farm
Broome is renowned for producing some of the finest pearls in the world, so taking the short drive to Willie Creek Pearl Farm should be high on your list. Take in the beautiful sights and learn about Broome's rich pearling history. Take a tour and become an expert in the process of modern culture pearl farming. You'll view live oysters in their natural environment, cruise the azure waters, and see the harvesting to the creation of stunning jewellery. A must-see on your Broome campervan trip.
Gantheaume Point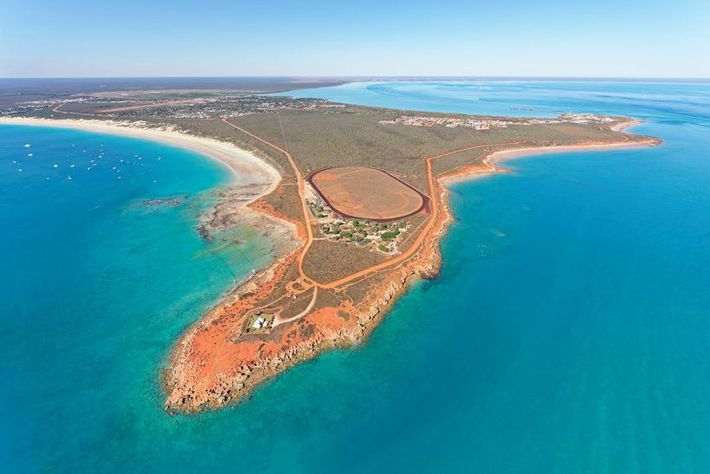 Check out the stark contrast of the red cliffs and crystal blue waters!
You can't visit Broome without seeing the ancient dinosaur prints up at Gantheaume Point. These real prints are over 130 million years old and are preserved in the reef rocks which are only visible on low tide. You'll also see the historical lighthouse lookout. The stark contrast of the red cliffs and the Indian Ocean makes for the perfect photo opportunity too. This majestic landmark is a short 10-minute drive from Broome.
Want to know more? Check out our articles about Broome and WA
Broome Campervan Rental Locations
Discover amazing experiences in Broome