Campervan Hire Christchurch
Search for Campervan Rental in Christchurch
Explore Christchurch with campervan hire from DriveNow
With a relatively small population of 4 million, New Zealand is gloriously remote. However, it is also packed full of some of the world's most breath-taking landscapes and natural beauty. The result of this combination is a fascinating and magnificent destination for your next self-drive holiday.
There are of course plenty of
car rental
operators in New Zealand, but having a
campervan or motorhome hire in NZ
offers you a different type of experience. Not only do you have the opportunity to chop and change your itinerary, but campervan hire gives you the chance to spend the night in incredible locations, cook your breakfast next to the beach, or listen to the sounds of wildlife as you wake up!
If you're planning a campervan adventure in New Zealand's South Island, the city of
Christchurch
is a great place to start. Christchurch is tucked into the east coast of the South Island, within easy driving distance of the most popular areas in the North and South. The great thing about campervan or motorhome hire in Christchurch is that you can find many operators that allow you to start and finish in different locations, saving you from doing the same route twice! What's more, you can also choose to jump on the ferry to explore the North Island if you wish, picking up another campervan rental on the other side to go on and explore the capital of
Wellington
or lively city of
Auckland
.
The best way to ensure you get what you're looking for from campervan rental in Christchurch is by booking with an unbiased comparison site like DriveNow. We use our partnerships with trusted and popular campervan operators like
Britz
,
Maui
,
Jucy
,
Lucky
,
Mighty
,
Tui Campers
,
Travellers Autobarn
, and
Freedom Campers
to bring you a selection of the best vehicles for the lowest prices. No matter whether you want a budget camper or a luxury motorhome; for a weekend or for a month, DriveNow can help you find the lowest price for exactly what you need.
Compare Cheap Campervan Hire in Christchurch with DriveNow
DriveNow takes all the hassle out of arranging cheap campervan or motorhome hire in Christchurch. With over a decade of experience of arranging campervan hire, we have partnerships with the biggest and best brands in the market. This gives us a huge selection of great makes, models, and sizes for you to pick and choose from, ensuring you can choose a campervan hire in Christchurch that's just right for you.
In addition to the huge selection, you'll also get the best pricing on the market. Our comparison service is impartial and unbiased, and the prices you see are always the best available, backed up by our lowest price guarantee. What's even better is that it's completely free! There are no hidden fees added before, during or after your trip, so what you see is what you get. DriveNow's vehicles can be picked up from numerous locations in Christchurch or across NZ, so you'll be sure to find one in a convenient spot that works for you. All of these perks add up to hassle free Christchurch campervan hire that will help you to get your travels started in the best possible way.
Why Use DriveNow for Campervan Hire in Christchurch?
We only partner with world renowned brands
Free booking service with no fees or charges
Objective and impartial
Immediate email confirmation and locked in rental rate
Guaranteed lowest rates
DriveNow has been comparing rental pricing for campervans in Christchurch since 2003
Having a camper or motorhome hire in Christchurch is a memorable, laid back and fantastic way to explore the area. We've been helping travellers gain access to the campervans they need for more than a decade, and are ready and waiting to help you compare and find the right fit.
Ready to book? Simply enter your dates of travel, decide on the make and model of your Christchurch campervan hire and place your reservation. It's quick and easy!
What to Look Out For on Your Trip to Christchurch
In 2010 and 2011, what was once a thriving, tourist-based city was struck by strong earthquakes and aftershocks. The disaster destroyed many of the most famous buildings in Christchurch along with thousands of homes. Almost a decade later, the city has recovered remarkably, notably with the innovative use of shipping containers to create shops, bars, and restaurants in the outskirts of the city. Witnessing how well the residents have bounced back is as good a reason as any to pay a visit to Christchurch. While there you'll also be able to check out a collection of other great attractions, from gardens to museums to mountains. Whether you're planning to spend your whole trip in Christchurch or just intend to have a quick pit stop, make sure you don't miss out on some of these most popular things to see and do in and around the city.
Christchurch Gondola
One of the best ways to get to know a new city is to take a look at it from above. That's why the gondola that operates from Heathcote Valley in Christchurch to the summit of the nearby Mt Cavendish is such a success. From the top, you can enjoy beautiful views of the whole city, out over the Canterbury Plains and out towards the Southern Alps in the distance. Once you've reached the summit, you can enjoy a bite to eat at the Red Rock Café or explore the numerous hiking and biking trails that start from the top.
Christchurch Botanic Gardens


Enjoy peace and quiet in the heart of the city at the Christchurch Botanic Gardens.
Source: Christchurch City Council
For a break from all your exploring, head to a slice of nature inside the city. The Christchurch Botanic Gardens are one of the most visited places in the city, particularly in spring and summer when the colours are at their best. They're full of a huge collection of native and exotic plants, as well as water features, ponds, and rivers. A strong favourite among locals and visitors for more than 150 years, the gardens are a perfect place to relax, have a picnic, and soak up the sun.
Quake City
Quake City is a unique blend of an informative museum and a tourist attraction; taking a positive spin on the natural disaster to bring benefits to the city's tourism industry. The attraction is made up of a series of interesting displays, videos, and exhibits to educate and remind people of what happened, but also to show how brilliantly they have bounced back since. As the quake is a landmark event in the history of Christchurch, it's well worth a visit to appreciate the city for what it is today.
Where to Park During Your Campervan Adventure in Christchurch
So you've got the keys to your campervan rental in Christchurch, and had a good look around. Now you're going to need somewhere to park up for the night. While there are many places where it's perfectly fine to park up without booking, it can be worthwhile to plan in advance so you know that the land isn't privately owned. What's more, when you have a campervan you'll realise that it's very useful to have somewhere to get rid of rubbish, stock up on power, and use shower facilities. For this reason, designated holiday parks are a great idea. Luckily they are dotted all over New Zealand with plenty not far from Christchurch. Here are just a few.
North South Holiday Park
If you have an early flight to catch or are arriving late into Christchurch Airport, this holiday park is a great option. Just five minutes from the airport, you can avoid spending much time in transit, giving you a few more all-important extra few minutes in bed if you need them! The North South Holiday Park isn't just great for a quick pit stop; it's also equipped with a pool, playground, and bike hire to make your longer stays just as enjoyable.
Amber Kiwi Holiday Park


Take advantage of a great location and convenient facilities in the Amber Kiwi Holiday Park.
Source: Amber Park
If you're thinking of staying in your campervan in Christchurch for a bit longer, then the Amber Kiwi Holiday Park could be a good option. It's conveniently located right next to the bus stop heading into the CBD, so you can explore what the city has to offer without having to park your campervan in the city. This park also has plenty of useful facilities including multiple kitchens, BBQs, and a TV room.
TOP 10 Holiday Park Christchurch
TOP 10 are a well-known chain of accommodation providers operating all over New Zealand. You'll likely spot more of these throughout your travels across the country, and they are a very convenient place to park up your motorhome hire in Christchurch for the night or for a longer stay. The TOP 10 Holiday Park in Christchurch offers a heated indoor pool, bouncy castle and trampolines, spa, and TV room among many other excellent facilities.
Get Inspired for Your Adventure with Road trips from Christchurch
Once you've explored Christchurch and decided to hit the road, the big question is where to head first. With lakes, national parks, mountains, forests, glaciers, and bays around just about every corner, there's plenty to choose from. Here are just a few of the most popular places to head to in your Christchurch campervan hire to factor into your plans.
Akaroa
Conveniently located just a short drive away from Christchurch, Akaroa is an ideal place to kick-start your NZ travels. The harbourside town is a picture-perfect spot to explore, with activities both within the town and out in the nearby countryside. Akaroa can also offer you close access to some incredible wildlife, including alpacas, dolphins, and even penguins!
Mount Cook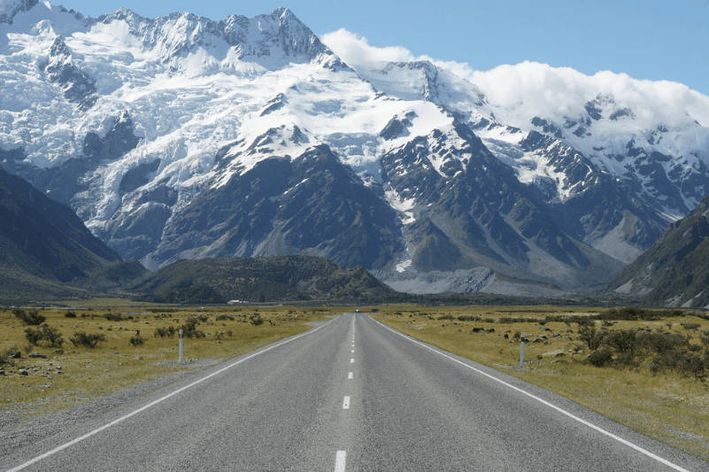 Don't pass up on the chance to witness New Zealand's Southern Alps and glaciers
Another of the numerous charms of campervan hire in New Zealand from Christchurch is the chance to visit some of the country's monstrous glaciers. The Tasman Glacier is New Zealand's largest covering 100sqkm, 600m thick and runs for 24km from the Southern Alps to the Mackenzie Basin. Exploring this and other by foot, by air, or just simply gazing at them from your campervan is a fantastic experience, and one that most visitors will want to fit into their trip at some stage. Heading from Christchurch, one of the most popular glaciers to visit is Mount Cook, located in the Mount Cook National Park.
The Southern Alps
As one of the most visited places in New Zealand, (and, indeed the world) the Southern Alps of the South Island have a huge reputation to live up to. The moment you arrive, you'll most likely see what all the fuss is about. This part of the country is home to some truly breath-taking scenery, with towering mountain ranges, sparkling blue lakes, and luxurious wine country. What makes this different from the rest of NZ, though, is the booming tourism industry in the area, which has made it possible for you to take part in pretty much any activity you can think of. Jump out of a plane, go white water rafting, horse riding, skiing, you name it; you can find it in this part of the world.
What to Expect from Your Camper Adventure to Christchurch
For first time campers, the idea of packing everything you need to live for a week or two into a small space could be a confusing concept. What's more, most people have an image of campervans or motorhomes as huge, bulky beasts that are pretty tricky to drive and park. Fortunately, none of this is anything you have to worry about with the DriveNow fleet! These days, modern campers are surprisingly agile, well designed and almost as easy to drive as your everyday car.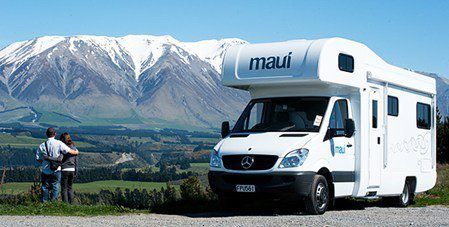 Enjoy world-class views from the comfort of your motorhome hire
When it comes to your packing, you'll be pleased to know that most of the hard work is already done for you. All of DriveNow's operator vehicles come complete with everything you need for eating, sleeping and general cleaning, including bedding, towels, and cooking equipment. It's worth checking with your chosen vehicle provider before you set off, though, as some extra gear is also available to hire on request that could add extra comfort and convenience to your trip.
Christchurch Campervan Rental Locations
Discover amazing experiences in Christchurch